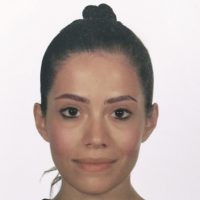 Burcu Baykan
Assistant Professor Doctor
Office: FA 305
Courses
COMD 203 // Media Studies I
COMD 204 // Media Studies 2
COMD 442 // Special Topics in Visual Studies
COMD 514 // Identity Space and Image
GRA 207 // Conceptual Design
Education
• M.A., Media and Visual Studies, Bilkent University, 2010
• Ph.D., Digital Arts and Humanities, Trinity College Dublin, 2016.
Biography
Burcu Baykan received her doctorate in Digital Arts and Humanities Structured Ph.D Program from Trinity College Dublin, School of Creative Arts, and her M.A in Media and Visual Studies from Bilkent University, Communication and Design Department. She was a graduate fellow at Trinity Long Room Hub Arts & Humanities Research Institute between 2014-2016. Her research primarily focuses on the onto-aesthetics of change and non-human transformations in contemporary visual arts, including performance art, installation, video art, sculpture, bio-art, and the interdisciplinary collaborations within these fields. She tackles these issues from the viewpoint of various process-oriented philosophers and social theorists such as Deleuze, Guattari, Bergson, Spinoza, Simondon, Massumi and Braidotti. Her other interests include media theory, graphic design research and practice.
Dr. Baykan teaches graduate and undergraduate level courses in media studies, continental philosophy and contemporary art & design practices. She has presented her research at international conferences, and had her work published in anthologies by Palgrave Macmillan, Edinburgh University Press, Brill Academic Publishers, and Inter-Disciplinary Press, as well as in International Journal of Advances in Social Sciences.
Research Interests
Critical Theory and Performance Studies, Art-Science-Technology Collaborations, Continental Philosophy and Aesthetics, Deleuze & Guattari Studies and Contemporary Visual Arts, Graphic Design Practice and Research, Computer Graphics, Experimental Typography, Print Media.