Nisan Dağ (COMD '08) wins Golden Boll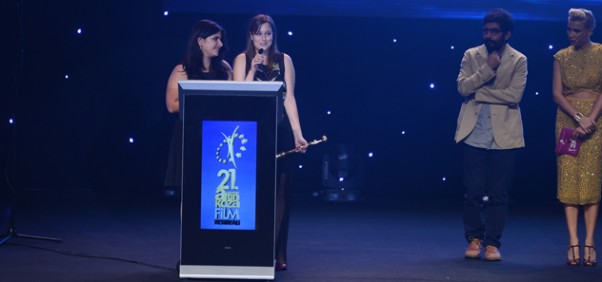 Bilkent COMD alumni Nisan Dağ's ('08) debut feature (co-directed with Esra Saydam) "Deniz Seviyesi / Things I Cannot Tell" won six awards including the "Best Director" at the 21st Adana Golden Boll Film Festival. A Turkish-US joint production Things I Cannot Tell charts the story of a New York-based Turkish woman's reunion with her first love as she returns to her home country. The film won the Golden Boll for "Best Director," "Best Actor," "Best Actress," "Best Cinematography," "Best Editing," and "Best Original Score" categories. The National Competition of Adana Golden Boll Film Festival included 12 feature-length films. During the awards ceremony, Nisan Dağ expressed her surprise at winning the award, saying they competed against important directors in the competition. Golden Boll's jury presided by director Reha Erdem, included producer Nida Karabol, director of photography Gökhan Tiryaki, director Mahmut Fazıl Coskun, musician Tamer Çıray and actors Ahu Türkpençe and Ayberk Pekcan.
Photo: co-directors Esra Saydam (left) and Nisan Dag (right) accepting the Best Director award.