COMD Celebrated its 20th Anniversary with Screenings, Panels, Talks, Ceremony, and the Alumni Party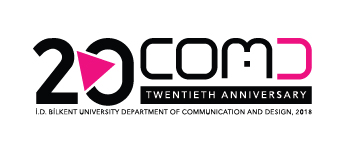 COMD's 20th Anniversary celebrations has come to an end! COMD has celebrated its anniversary with a series of events.
After PASO and COMD Shorts screenings on December 12 and 13, celebrations continued with panels, talks, and the long-awaited Alumni Party on the following two days.
One of our founding professors esteemed journalist Murat Yetkin gave a talk on the changes that happened in the past 20 years regarding the way we work in the media industries. One of COMD's first graduates and his former student Lale Şıvgın Dündar joined him, sharing her own experiences as a journalist and academician.
Our first alumni members Lale Şıvgın Dündar, Miray Akdağ, Deniz Ergin Erbil, and Seda Hasekioğlu Tahmaz had an engaging conversation with the audience sharing their experiences during their undergraduate years and the life after school.
Alumni, teaching staff, administrative and technical staff had the opportunity to enjoy the Alumni Party at Gaga Play Ankara. Our beloved alumni and members from the teaching staff performed on stage at this musical night.