COMD is Celebrating its 20th Anniversary!
Posted by

Funda Senova Tunali

Categories

.Latest News, COMD, Event, Exhibition, film festival, Media Archaeology, PASO, screening, short film, talk

Date

December 11, 2018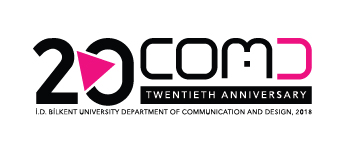 COMD is celebrating its 20th Anniversary with a series of events!
İ.D. Bilkent University, Department of Communication and Design cordially invites you to mark its 20th anniversary with a gala celebration at FFB 006 on Saturday, December 15th at 15:00.
We look forward to your participation.
The program is as follows:
12.12.2018, Wednesday
12:45-13:15, Lunch Time Shorts – PASO Selection 1 (FFB 006)
13.12.2018, Thursday
12:45-13:15, Lunch Time Shorts – COMD Selection 2 (FFB 22)
17:40-18:20, Shorts from the Archive (Media Archeology Lab) – PASO Selection 3 (FFB 011)
14.12.2018, Friday
12:45-13:15, Lunch Time Shorts – COMD Selection 1 (FFB 006)
14:00-14:30, The Keynote speech by Murat Yetkin: "20 Yılda Nereden Nereye?" (FFB 006)
14:30-14:45, Q&A
14:45-15:00, Coffee Break
15:00-17:00, Panel: "COMD'dan Sonra Hayat", Lale Şıvgın Dündar, Miray Akdağ, Deniz Ergin Erbil, and Seda Hasekioğlu Tahmaz
17:00-17:30, Q&A
18:00-19:30, Shorts from the Archive (Media Archeology Lab) – PASO Selection 2 & 4 (FFB 005)
15.12.2018, Saturday
14:30, COMD & BITS Open Doors
15:00, Ceremony with Protocol (FFB 005-FFB 006)
16:00, Cake & Coffee Break
20:00, COMD Alumni Party @ GAGA Manjero