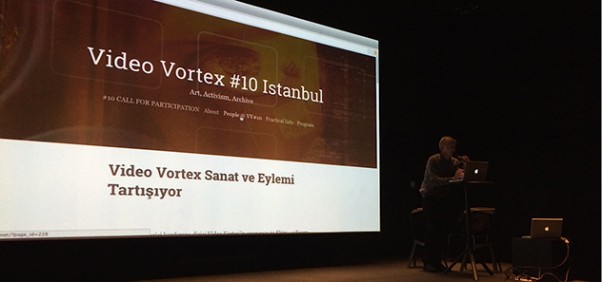 The Department of Communication and Design in cooperation with the Institute of Networkcultures, Amsterdam, Koza Visual, Istanbul and SALT organized the 10th Video Vortex conference in Istanbul on the 31st October and 1 November 2014 at SALT Beyoğlu and SALT Galata. Web: videovortex10.net
Video Vortex is a travelling conference series concerned with online video. Established in 2007 by Amsterdam based Institute for Network Cultures, the conference since then took place in Brussels, Amsterdam, Ankara, Split, Yogyakarta and Lüneburg.
For the 10th conference Özge Çelikaslan, Andreas Treske, Lewis Johnson, and Ahmet Gürata teamed up to bring the event once more to Turkey. Special guests have been Natalie Bookchin, presenting her latest work "Long Story Short" and Peter Snowdon with his film The Uprising.
Following the event in Istanbul, a boot camp with Sebastian Lütgert and Jan Gerber on archiving was held in Bilkent. Lütgert and Gerber introduced COMD students to the online applications turkishcine.ma and bak.ma. turkishcine.ma is hosted at Bilkent.