First Turkey Grand Slam was a big success!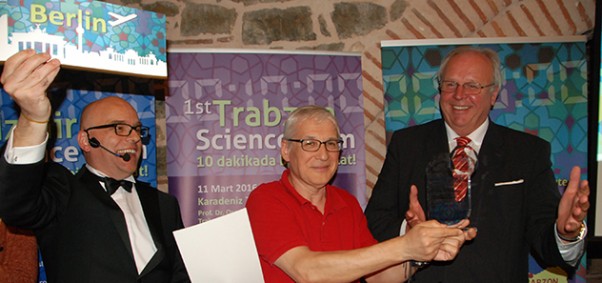 German Ambassador hosted the first national competition in presenting science to the public.
On 26th of April 2016, the German Ambassador in Turkey invited the public to a special event to his summer residence in Tarabya/Istanbul. The winners of six regional science slams fought for the first national championship in presenting science to the public: The Grand Turkey Science Slam.
A so-called Science Slam is an entertaining competition where scientists present any scientific topic to the public, according to their talent and compete with each other. The most important challenge is to present the theme accurately but entertainingly in 10 minutes. The public audience should understand the presentation because, in the end, the audience chooses the winner.
Between December 2015 and April 2016 six regional science slams were organised and moderated by Dr. Lutz Peschke from Communication and Design Department, in six different cities in Turkey: In Ankara (partner university: Bilkent University), İzmir (partner university: Yaşar University), Trabzon (Karadeniz Technical University), Bursa (partner university: Uludağ University), Konya (partner university: Selçuk University) and İstanbul (partner university: Kadir Has University).
In every city, six candidates made their presentations in a full aula and in an enjoyable atmosphere under the eyes of press representatives. At the end of every event, the audience chose a winner who was qualified for the Grand Final event in Tarabya.
The Grand Turkey Science Slam was held in the summer residence of the German Ambassador on 26th April 2016. The candidates presented their scientific themes on the highest level, in the presence of the German Ambassador, rectors and academicians from many universities and representatives of big German companies. In contrast to the regional science slams, the candidates had to make their presentations in English. In the end, Sencer Yeralan, professor of industrial engineering at Yaşar University was chosen by the audience as the best slammer of 2016 and won a trip to Berlin for two persons.
The Grand Turkey Science Slam is supported by German companies like Siemens, Bosch, EWE, Rohde & Schwarz and Zeiss.
Lutz Peschke