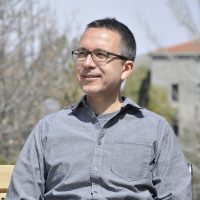 Ahmet Gürata (On Leave)
Assistant Professor Doctor
Courses
COMD 207 // Film History
COMD 513 // Film and Genre
COMD 516 // Turkish Cinema and Modernity
Education
• Ph.D., Cultural Studies, and Humanities, University of London, 2003.
• M.A., Graphic Design, Bilkent University, Institute of Fine Arts, 1997.
Biography
Ahmet Gürata joined Bilkent University in 2007 and is currently the chair of the Department of Communication and Design. He has published research on the history of Turkish cinema, cross-cultural reception, remakes and documentary in anthologies and journals. He serves on the editorial boards of sinecine: journal of film studies and Kebikeç. He has served on several film festival juries and is currently an advisor for Festival on Wheels. He is a member of Turkish Association of Documentary Filmmakers and Turkish Film Critics Association. Has won Turkish Academy of Sciences' Honorable Mention Award for his translation of A Short Guide to Writing About Film (Timothy J.Corrigan) ın 2009.
Research Interests
Film history and theory, documentary, visual culture.