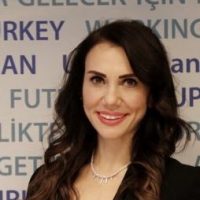 Miray Akdağ
Advisory Board Member
Miray Akdag is the Press Officer of the European Union in Turkey; she joined the European Union in 2016; since 2017 she serves as the Press Officer of the EU in Turkey.
Before the EU, for 10 years she was the political correspondent of a prominent news channel of Turkey NTV; presenting news and hosting daily shows live mainly from the Grand National Assembly of Turkey as well as from government offices and political parties. During her experience in journalism she interviewed national and international political actors, decision-makers in Turkey and abroad.
She was a part-time instructor for Bilkent University between 2013-2014. At CNN International's Atlanta Headquarters in the US between 2003-2004, she had her stories broadcasted on CNN International. She worked for 3 years at the state-run TRT, as the host of a weekly show. She did her master's at The London School of Economics and Political Science with British Council Scholarship, her degree is in Media Communication Regulation and Policy studies. She received her Bachelor of Arts degree in Communication and Design at Bilkent University. During her education, she worked at part-time jobs for the World Bank and the UN. She has training certificates on TV Journalism from BBC Academy, received honours & awards for her journalistic achievements. She can speak English and Spanish.