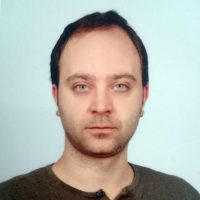 Egemen Kırkağaç
Adjunct Instructor
Courses
CS 153 //Introduction to Computer Graphics
FA 171 // Introduction to Art, Design, and Culture I
FA 172 // Introduction to Art, Design, and Culture II
Education
• M.F.A., Media and Design, Graduate School of Economics and Social Sciences, Bilkent University, 2017.
Biography
Egemen Kırkağaç received his Graphic Design BA Degree and Communication and Design MFA Degree both from Bilkent University. His projects and studies covered areas such as corporate identity design, wayfinding systems, self-reflexive artworks and personal history documentation. Currently, he studies History of Art as a PhD student in the Faculty of Letters, Hacettepe University.
Research Interests
Data Visualisation, Self-reflexivity, Art History and Writing Methods.