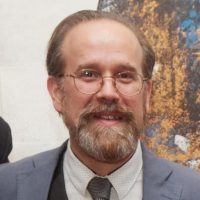 Carlos Cabral Nunes
Artist/Curator in Residence
Born in 1971, in Mozambique, Carlos CABRAL NUNES has lived in Portugal since 1975.
He was a student at the Art Academy in Remscheid, Germany, in 1989. Friend and admirer of the work of Artur Bual and Mário Cesariny, to them he owes the incentive to exhibit his own artworks, since 1997. In 1993 he has started to develop the concept of Global Art, which later on, in 1997, lead to the establishment of the not-for-profit association Colectivo Multimédia Perve, of which he is a founding member and artistic coordinator. He was a student at Lisbon's University in European Studies followed
by post-graduation and attendance in a Master's course in Art Business Management. At Évora University he made the Visual Arts Ph.D. theoretical course and he is preparing his thesis devoted to Global Art. As a multimedia artist, he has received several prizes in Portugal and abroad. He was a member of the jury of "Top Talent Award", held in Salzburg, Austria, in 2003. Cabral Nunes completed the "Digital Multimedia Authoring" course at Arthouse Multimedia Centre in Dublin, Ireland, in 1998 and
is a permanent member of the Digital European Academy, Utrecht, Holland. He has participated in more than 40 solo and group exhibitions in Portugal, Senegal, Spain, India and, in late 2019, in Turkey, integrating the travel exhibition of the collection "Lusophonies". He has been represented by Perve Galeria, since 2001, with paintings, installations, interactive multimedia and photography. He was distinguished, among other awards in Portugal and abroad, with the Youth Prize – Contemporary Art in XI Biennial of Vila Nova de Cerveira and the "Visual Design and Interaction" by the National Award for Multimedia, both in 2001.