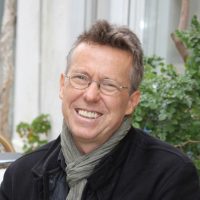 Andreas Treske
Senior Lecturer // CHAIR
Office: FF117
Courses
COMD 207 // Film and Theory
COMD 481 // Visual Communication Project I
COMD 482 // Visual Communication Project II
GRA 501 // Graduate Studio I
GRA 502 // Graduate Studio II
GRA 517 // Image, Time, and Motion I
GRA 590 // Seminar in Research Topics
GRA 599 // Master's Thesis
Education
• Munich Film Academy (Hochschule f. Fernsehen u. Film), 1992.
• University of Siegen, German Literature and Political Science, 1986.
Biography
Andreas Treske is an Editor, Filmmaker, and Media Artist living in Turkey. He graduated from Munich Film Academy (Hochschule f. Fernsehen u. Film); professional experience and continuing activities as director and editor. From 1992 till 1998 creative art staff at HFF Munich with extensive research on applied aesthetics for cinema and TV. From 1998 – 2010 teaching at the Department of Communication and Design at Bilkent University, Ankara, film, and video production, new media theory; chair of the department from 2005 till 2010. Between 2011-2014, he taught in the Film Option of the Media and Communication department of Izmir University of Economics in Izmir/Turkey, a founding member of the Department of Cinema and Digital Media in 2012. International exhibitions of interactive media works, various short films screened on international film festivals, his co-directed feature-length documentary "Takim Böyle Tutulur" played in Autumn 2005 in more than 50 Turkish cinemas. In 2008 picture editor of the feature-length cinema documentary "Mustafa", directed by Can Dündar. He is the organizer of Video Vortex Ankara and head of steering committee of "Towards a deeper understanding of rural Europe", Promotion of Civil Society Dialogue between EU and Turkey.
Research Interests
Interactive media works, filmmaking, video production, new media theory.