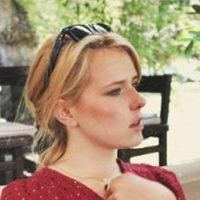 Maria Helena Brzozowska
Instructor
Courses
COMD 101 // Visual Communication Design I
COMD 102 // Visual Communication Design II
COMD 281 // Media and Design Studio I
COMD 365 // Character Animation and Sequential Storytelling
Education
• M.F.A., Media and Design, Graduate School of Economics and Social Sciences, Bilkent University, 2016.
Biography
Maria received her Bachelor of Arts in Visual Communication from Leeds Arts University in 2013. She then completed her Master in Fine Arts in Media and Design at Bilkent University, graduating in 2016. She went on to work as a research and academic assistant at Alanya HEP University; before joining the Faculty of Art, Design, and Architecture at Bilkent University in 2018 as a part-time instructor. At present, she also works as a freelance illustrator and children's book illustrator, who has won competitions and exhibited work in Turkey, Italy, and the UK. Maria is a full-time instructor at COMD at Bilkent University.
Research Interests
Children's Picture Book Illustration, Hybridization in the Visual Arts, Experimental Animation, Character Design, Print Media.